Special FlexJim Police Pricing
Child or pet locked in a car?
Don't break the window
There is a better way!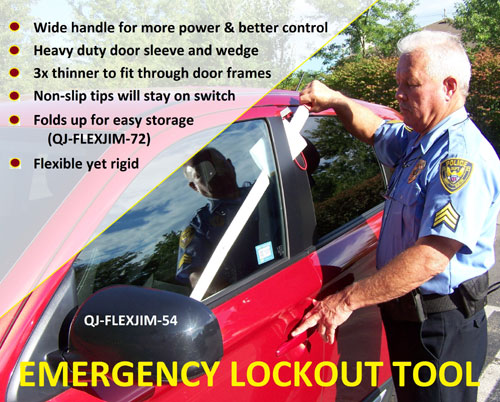 FlexJim™
FlexJim was developed for police officers as a safer alternative to breaking out a car window. FlexJim is a flat reach tool that has many advanced features designed to unlock most cars and trucks in mere seconds!*
1) Breaking a car window can send small glass fragments onto a child or pet inside.
2) A broken car window can cost the owner hundreds of dollars to replace!
3) Unlocking a car can leave you exposed. Flexjim reduces the risk by getting you in faster!
4) A broken car window leaves the car vulnerable to theft and damage from rain or snow.
---
Try FlexJim™ for 30 days FREE!
Send us an email with your purchase order number, shipping address and contact information and we will send you as many FlexJims as you want to test. Choose either model. If FlexJim isn't the fastest reach tool you have ever used, return it within 30 days. If you would like to keep your FlexJim, simply pay the invoice.
OR
Order today with a credit card and receive FREE shipping.
Money Back Guarantee!** If FlexJim is not the fastest reach tool you have ever tried, we will refund your money!
NOTE: Special law enforcement pricing will not be found on our main web site.
No products will be shipped without verification of your law enforcement status.
FLEXJIM-54 lockout kit w/heavy duty door sleeve & wedge
At only 54" long and 1/16" thick, this FLEXJIM is the worlds fastest reach tool! Its thin flat design will get you to switch and its non-slip tips will keep you on the switch while applying pressure. Most users are able to get into most cars and trucks in mere seconds.


Standard Price...$99.99
Price: $79.99 (w/free shipping)

FLEXJIM-54Flockout kit w/heavy duty door sleeve & wedge
Has all the benefits of the FLEXJIM-54 including folding down to just 27" for easy trunk storage, The only negative is it is thicker at the joint. 1 window wedge and 1 heavy duty sleeve included.


Standard Price...$109.99
Price: $89.99 (w/free shipping)

FlexJim™, FLEXJIM-72
The ultimate reach tool adjusts to dozens of different shapes to push, pull or depress unlock switches, toggles and buttons. Will fold down to 20" long and ½ thick for easy storage in a car trunk.
Standard Price...$139.99
Price: $99.99 (w/free shipping)
Have any questions, call us: (513) 777-3329

*individual results may vary
**to receive refund, must return within 45 days of purchase
QuickJim™ Car Unlock Tools | 8095 Beckett Center Drive, West Chester, Ohio 45069 |
eMail
NOTE: QuickJim Lockout tools are not sold to the general public. To purchase QuickJim products, you must be a member of law enforcement,
a fireman, EMS, locksmith, tow truck operator, campus security, car dealership, auto repair shop or distributor of the same.
Several patents pending. Company service marks and trademarks include QuickJim™, Curls in – Unlocks – Curls out™, Spiral Locksmith Tool™, Spiral Car Tool™, Spiral Unlock Tool™, Spiral Open Tool™
KwikJim™, KwickJim™ , SpiralJim™ , Quick-Jim™, Kwik-Jim™ , Carsnake™, CurlyJim™, Tools That Get You In™, The Claw™, FlexJim™ . © all rights reserved.
site created by Bold Statement Web Design