About QuickJim
QuickJim technology is the culmination of forty years of locksmith experience and innovation by its founder, Rod Herdman. Quickjim, LLC is a family owned business that employs many members of the Herdman family including the family patriarch Bill Herdman. At 92 years young and a WWII veteran, Mr. Herdman brings a wealth of sales and
marketing experience to the team. His daily positive attitude and never give up demeanor has created a great company culture. He chooses not to be old.
QuickJim spiral car lockout tool was born out of a desire to create a more efficient tool that could curl under a car window to hit the unlock switch. Wire tools can be difficult to use and often get stuck in the door. QuickJims unique spiral design allows it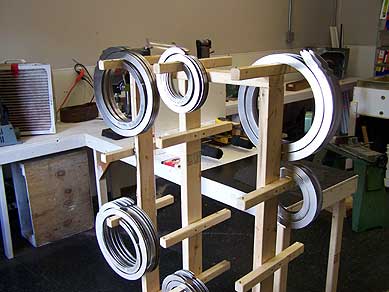 curl out the way it curled in preventing it from getting snagged on internal door parts.
From the success of QuickJim, emerged two more innovative products. The Claw™ linkage tool and the FlexJim™ folding long-reach tool. The curvature of the Claw gives it a significant reach advantage to manipulate horizontal or vertical linkage rods behind internal door parts. It can go where a SlimJim® simply can't.
FlexJim was created to give the locksmith a faster and more efficient long-reach tool capable of folding up for compact storage. Its three prong tip allows the locksmith to push or pull unlock switches and mechanical toggles. It is three times thinner than most long reach tools allowing it to work through the edge of the door from different angles to maximize reach and leverage.
Advancements in fiber-optic laser cutting technology have made it possible to economically produce QuickJim's innovative products out of a large sheet of stainless steel. QuickJim products are so unique in design and function they have several United States patents pending.
Although QuickJim products were designed with the locksmith in mind, they can be used effectively by law enforcement and other emergency services to rescue a child or pet from a locked car.
QuickJim products are manufactured in the United States and assembled in West Chester, Ohio. All products can be purchased from the company's website or from an equipment supplier.
ISP33
, LLC |
6771 Lakota Lane, Liberty Township, Ohio 45044
|
eMail
NOTE: QuickJim Lockout tools are not sold to the general public. To purchase QuickJim products, you must be a member of law enforcement,
a fireman, EMS, locksmith, tow truck operator, campus security, car dealership, auto repair shop or distributor of the same.
Several patents pending. Company service marks and trademarks include QuickJim™, Curls in – Unlocks – Curls out™, Spiral Locksmith Tool™, Spiral Car Tool™, Spiral Unlock Tool™, Spiral Open Tool™
KwikJim™, KwickJim™ , SpiralJim™ , Quick-Jim™, Kwik-Jim™ , Carsnake™, CurlyJim™, Tools That Get You In™, The Claw™, FlexJim™ . © all rights reserved.
site created by Bold Statement Web Design